Book Recommendations
Thurgood Marshall Book Recommendations
WNDB: We Need Diverse Books
"Imagine a world in which all children can see themselves in the pages of a book."
From the homepage, select the tab "Resources" and from the drop down menu, select "Where to Find Diverse Books." WNDB has compiled a list of sites that offer recommendations for diverse titles.
Social Justice Books
socialjusticebooks.org/booklists/
More than 60 carefully selected lists of multicultural and social justice books for children, young adults, and educators. Also includes a guide for selecting anti-bias children's books.
Otter Awards
2020 OTTER Nominees
WLA's OTTER Award committee is excited to announce the 2020 OTTER Award nominees:

Two's a Crowd (Pug Pals #1) by Flora Ahn (Scholastic)
Mac Undercover (Mac B., Kid Spy #1) by Mac Barnett, illustrated by Mike Lowery (Scholastic)
Rosie Revere and the Raucous Riveters (The Questioneers, book #1) by Andrea Beady, illustrated by David Roberts (Amulet / Abrams)
Meet Yasmin! by Saadia Faruqi, illustrated by Hatem Aly (Picture Window Books / Capstone)
Rabbit's Bad Habits (Rabbit & Bear, book 1) by Julian Gough, illustrated by Jim Field (Silver Dolphin Books / Hachette Children's Group)
Mr. Wolf's Class (Mr. Wolf's Class #1) by Aron Nels Steinke (Graphix / Scholastic)
Sasquatch Book Award
Kids' Choice Award for 4th through 6th grades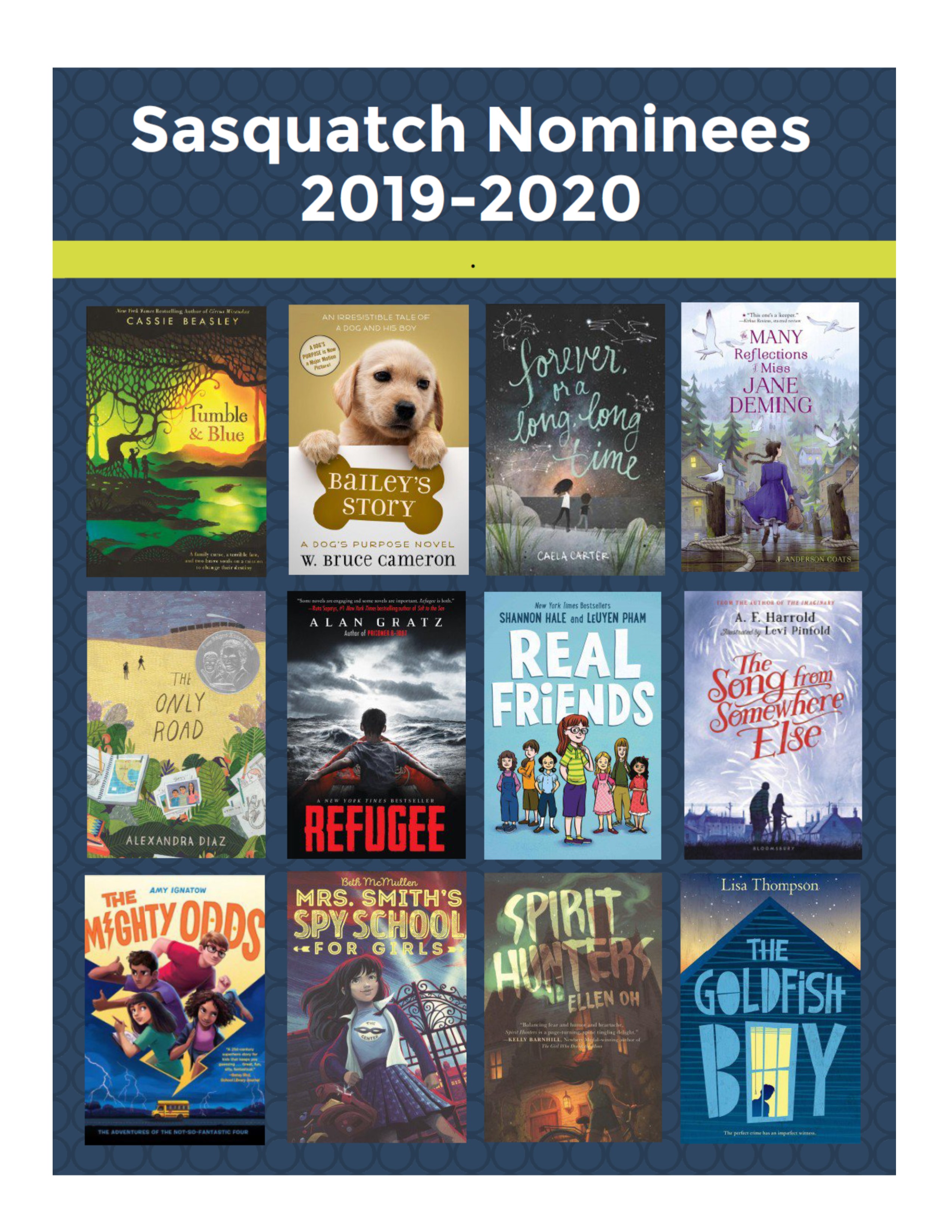 Tumble & Blue by Cassie Beasley
Bailey's Story by W. Bruce Cameron
Forever or a Long, Long Time by Caela Carter
Many Reflections of Miss Jane Deming by J. Anderson Coats
The Only Road by Alexandra Diaz
Refugee by Alan Gratz
Real Friends by Shannon Hale
The Song From Somewhere Else by A. F Harrold
The Mighty Odds by Amy Ignatow
Mrs. Smith's Spy School for Girls by Beth McMullan
Spirit Hunters by Ellen Oh
The Goldfish Boy by Lisa Thompson
Recommendations for Books about Race and Racism
---
Historical civil rights stories to build empathy and anti-bias leadership skills/allyship:
Little Leaders, Bold Women in Black History (2017)
"Meet 40 trailblazing women who broke barriers of race and gender to pave the way for future generations. Little Leaders: Bold Women in Black History is important, timely, and written in style that kids will enjoy. "
Bolstered by the love and wisdom of his large, warm family, young Malcolm Little was a natural born leader. But when confronted with intolerance and a series of tragedies, Malcolm's optimism and faith were threatened. He had to learn how to be strong and how to hold on to his individuality. He had to learn self-reliance.

Meet the youngest known child to be arrested for a civil rights protest in Birmingham, Alabama, 1963, in this moving picture book that proves you're never too little to make a difference.
In exuberant verse and stirring pictures, Patricia Hruby Powell and Christian Robinson create an extraordinary portrait for young people of the passionate performer and civil rights advocate Josephine Baker, the woman who worked her way from the slums of St. Louis to the grandest stages in the world. Meticulously researched by both author and artist, Josephine's powerful story of struggle and triumph is an inspiration and a spectacle, just like the legend herself.
A doughnut and coffee, with cream on the side. This picture book is a celebration of the 50th anniversary of the momentous Woolworth's lunch counter sit-in, when four college students staged a peaceful protest that became a defining moment in the struggle for racial equality and the growing civil rights movement.
Born to parents who were both former slaves, Florence Mills knew at an early age that she loved to sing, and that her sweet, bird-like voice, resonated with those who heard her. Performing catapulted her all the way to the stages of 1920s Broadway where she inspired everyone from songwriters to playwrights. Yet with all her success, she knew firsthand how prejudice shaped her world and the world of those around her. As a result, Florence chose to support and promote works by her fellow black performers while heralding a call for their civil rights.
---
Historical Accounts of Overcoming Racism:
Using original slave auction and plantation estate documents, Ashley Bryan offers a moving and powerful picture book that contrasts the monetary value of a slave with the priceless value of life experiences and dreams that a slave owner could never take away. Appropriate for ages 6 and up.
In this picture book biography, the late New York Times bestselling author Walter Dean Myers and acclaimed artist Floyd Cooper take readers on an inspiring journey through the life of Frederick Douglass. Frederick Douglass was a self-educated slave in the South who grew up to become an icon. He was a leader of the abolitionist movement, a celebrated writer, an esteemed speaker, and a social reformer, proving that, as he said, "Once you learn to read, you will be forever free."
Documents a part of history that is little-known: the relationship between the Choctaws — members of a sovereign nation — and the slaves who lived in Mississippi during that time before the Civil War, before the Choctaws were forced out of Mississippi to Oklahoma on the Trail of Tears
Joan was a white teenager in the South during Segregation who put herself on the front lines of the Civil Rights struggle. She attended demonstrations and sit-ins and was one of the Freedom Riders in 1961 who was arrested and put on death row for months at the notorious Parchman Penitentiary.
It is the story of a young boy's determination to change South Africa, and of the struggles of a man who eventually became the president of his country.
https://www.amazon.com/Nelson-Mandela-Kadir/dp/0061783749
Despite fierce prejudice and abuse, even being beaten to within an inch of her life, Fannie Lou Hamer was a champion of civil rights from the 1950s until her death in 1977. A 2016 Caldecott Honor BookA 2016 Robert F. Sibert Honor BookA 2016 John Steptoe New Talent Illustrator Award WinnerStirring poems and stunning collage illustrations combine to celebrate the life of Fannie Lou Hamer, a champion of equal voting rights.
Born into slavery, Belle had to endure the cruelty of several masters before she escaped to freedom. But she knew she wouldn't really be free unless she was helping to end injustice.
Eloquent and poignant, Kareem's story is one of self-discovery, emotional and intellectual development, and hard-fought and well-deserved success.
---
Books That Teach Kids to Combat Racism and Bias:
"This wonderful book should be a first choice for all collections and is strongly recommended as a springboard for discussions about differences." —School Library Journal (starred review)
A young boy wrestles with his Muslim identify in this picture book for children. When Bilal and his sister Ayesha move with their family, they have to attend a new school. They soon find out that they may be the only Muslim students there. When Bilal sees his sister bullied on their first day, he worries about being teased himself, and thinks it might be best if his classmates didn't know that he is Muslim.
During a class trip to an apple orchard, Farah, a Muslim girl who has not yet learned English is nervous about her new classmates. In her first person narrative she reveals that she knows there are tensions between her former home and her new country and she is uncertain if her classmates will welcome her.
Review, "Here's something I didn't know, but which breaks my heart. From 1936-1964, "The Green Book" was a travel guide for African-Americans that included a listing of service stations that would serve them."
---
Books That Tackle Race and Ethnicity:
This Newbery Medal winner is a novel in verse about two African-American, basketball-playing twin brothers who face a year of changes when they begin to drift apart. Among its many charms is Alexander's smooth infusion of hip-hop energy and love of language into a story about sports, family and racial identity.
Fifty of the foremost diverse children's authors and illustrators–including Jason Reynolds, Jacqueline Woodson, and Kwame Alexander–share answers to the question, "In this divisive world, what shall we tell our children?"
---
4th/5th Graders:
Ghost wants to be the fastest sprinter on his elite middle school track team, but his past is slowing him down in this first electrifying novel of a brand-new series from Coretta Scott King/John Steptoe Award–winning author Jason Reynolds.
Tense, powerful story of boy and a slave catcher in 1858. Twelve-year-old Charlie is down on his luck: His dad just died, the share crops are dry, and the most fearsome man in Possum Moan, Cap'n Buck, says Charlie's dad owed him a lot of money. Fearing for his life, Charlie strikes a deal to repay his father's debt by accompanying Cap'n Buck to Detroit in pursuit of some folks who have stolen from him. It's not too bad of a bargain for Charlie… until he comes face-to-face with the fugitives and discovers that they escaped slavery years ago and have been living free.